Post by tonib on Feb 20, 2023 22:54:09 GMT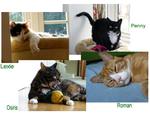 I need to organise a few things beforehand including buying a new climber, ✅
igloo bed ✅,
move Lexie into another room ✅ did on Thursday,
I'll need to slightly reorganise Lexie's temporary room to ensure she can't hurt herself or break anything that I'm particularly attached to but that will be done tomorrow & move her things into it✅.
Her current room can then be fully cleaned✅, especially any possible hiding places.
It will also need a little reorganisation ✅
The climber will be put together & the final reorganisation done on Friday including setting up litter trays/mats feeder mats while I waiting for Osiris to be ready to pick up from the vets.
The final clean & safety check of their room will be done on Thursday & the door will be shut even if I'm in it as I don't want Lexie (or Osiris) to use the new stuff
Went to the rescue Saturday & Sunday. On Sunday I took a couple of cushions with me so I could sit on the concrete floor without getting a numb bum!!! They are still wary of me especially my big feet but getting down to their level made things a bit better (getting up again was another matter
. I'm going again tomorrow (Tuesday) armed with the cushions, treats & toys again. Shady will play with a dangly, catnipped toy but still not found something Stevie likes well other than treats which they both like & come running at the sound of a rustle!!! If Shady's a bit slow on finishing his share then Stevie is straight in there, I think he's another Lexie - very food orientated (greedy?).
I feel guilty giving them treats as the cats in the pens both sides of theirs can't have any. One is definite no-no as she is on a limited diet due to an upset tum whilst the other side can a very few as his tum is only a temporary upset & is well on the mend.
They will both allow me to stroke them for short periods so things are going in the right direction.
I went shopping today for a new large litter mat, already have an unused one so that should be enough. I have others (used) but they might have the odd puncture in which could be a problem for any missed tray incident!!! I also picked up some Whiskas's & Aldi's moist cat food as I only have Senior (ordinary brands or James Wellbeloved). Apparently the et what they're given - 1 pouch each twice a day - in the rescue, who prefer not to give the cats kibble if at all possible
I'm going to pick them up on Saturday afternoon so long as there are no issues with Osiris's recovery on Friday from his sedation otherwise it will be Sunday.