Post by orpheous87 on Apr 23, 2021 20:04:42 GMT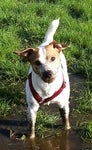 cazypops
We've never been given metacam for her. We've had loxicom/meloxicom a few times over the years, but nothing more. I can only trust the vets that they don't think she needs the stronger stuff! I've got some Boswellia coming tomorrow which I'm planning to give her to try and keep away from the traditional medication as long as possible.
Our fingers are definitely crossed for something that's easily treatable. The good news is I've not seen any blood in her urine since she came home from the vets but I don't know if that means everything is sorted or not! We were given meloxicom for her on Saturday, but I have no idea how long I'm supposed to be giving it for. I forgot to ask when we picked her up so I'll have to try and remember next time I speak to them.
Bless Jasper. Does he still get the cartrophen injections? Do they do the same thing as metacam?
Fingers crossed Pepper stays stable now and everything is sorted.

Yes Jasper still has the Catrophen every 6 month, in fact I need to remember to ring the vets and get him booked in for his next jab in May. I'm not entirely sure exactly how it works but it dose something to the ball and socket to help smooth it.
gypsy
once sent me an info link on it, but what ever it does it works for Jasp. He's been on it now for 8 years. He also get Yumove once a day too.
I didn't know that Metacam was stronger than Loxicom. I understood that they were the same drug just a different name.
Yes, fingers are definitely crossed. The results from the other urine sample showed no crystals, no stones and no white blood cells (or platelets, can't remember what the vet said now) so basically, there's nothing wrong with her! At the point we had her at the vets on Saturday, they did confirm that there was some sort of infection there but then we seem to have managed to flush it out. So no medication has been given, and we have to drop another urine sample off next week to get it checked once more to make sure and then she'll be signed off.
Well it's good that it's still working then. I wonder if we'd had Pepper x-rayed all those years ago whether she'd have been offered that or not (I'd guess probably not). Bless him.
I've just googled and you're right! For some reason I thought I'd read somewhere that metacam was a stronger version. Oh well either way, I'd rather not have her on it long term. I'll let her finish this bottle and then I'll start her on the boswellia.